Columbia Heights: New Patients
Pediatric primary care is about prevention and wellness.
We believe kids do better when they have reliable, comprehensive care — whether it's working to keep your child healthy through preventive care, helping your child feel better when they're sick or coordinating care when additional services are needed. Our goal is to provide your family with the foundation for a lifetime of good health.
At Children's Health Centers, through primary care "plus," your child has access to a medical home when your child is well. This medical home provides assessment, basic treatment and care resources for primary care as well as some specialty services. Additionally, if your child is sick, he or she is welcome at any of our health centers around the city – wherever is most convenient for you.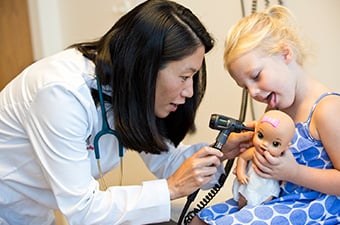 For Expectant Parents
If you are a new or an expectant parent, you may have many questions. Your new baby deserves the best care from the start. Choosing a pediatrician is an important first step in starting your baby's health off on the right track.

You may want to get to know your child's care provider before he or she is even born — especially if you are aware that specialty services may be needed. It's also helpful to make sure that office location, hours and staffing work for you and your schedule. Be sure to schedule your baby's newborn appointment before your delivery so your baby is examined between one and three days after discharge from the hospital.

Children's National primary care pediatricians are board-certified and skilled in caring for newborns and children. We offer the following services for new and expectant parents:
Well child check-ups and immunizations
Urgent and sick appointments
Breastfeeding support and infant nutrition
Crib and car safety
Columbia Heights Open House
Monthly open houses are available for expectant families to visit our facilities, meet pediatricians and ask questions to provide you with peace of mind.
Immunization Policy
Our team firmly believes in the effectiveness of immunizations to prevent serious illnesses and save lives. We also firmly believe in the safety of immunizations. Our offices follow the immunization schedule outlined by the Centers for Disease Control and Prevention and the American Academy of Pediatrics, which has been scientifically tested for safety and efficacy.

There is no such thing as an approved "alternative" immunization schedule. We will be happy to provide information to help you understand the science behind immunizations, as we have a commitment to our patients to keep them safe and provide the best pediatric care available. This includes giving immunizations on time, according to the CDC/AAP schedule.
Immunizations
Download the Schedule
Our offices follow the immunization schedule outlined by the CDC and Prevention and the American Academy of Pediatrics, which has been scientifically tested for safety and efficacy.
Preparing for Your Visit
Whether your child is seen for a routine check-up, an annual vaccination or is feeling sick, try to prepare for your appointment in advance to help ease the process. If this is your first appointment with our pediatric primary care office, we suggest you arrive early to allow time to complete any new paperwork or forms. Keep in mind the following helpful tips to make your first appointment go smoothly:
Bring a list of any medications your child is taking.
Bring your insurance card and driver's license.
Bring your child's immunization record.
Bring any medical records (including X-rays and lab tests).
Download and complete the new patient forms and bring them with you to your first appointment. Access new patient forms.
Write down a list of questions you may have for the pediatrician.
Our teams work to keep your appointments on time. Please help us by arriving on time. We understand situations come up, so if you are running late, we may ask you to reschedule the appointment. If you do need to reschedule an appointment, we request that you contact our office 24 hours in advance.
Learn about the insurance plans we accept and the available payment options we have to meet your needs.
| | |
| --- | --- |
| 3336 14th St NW | Phone: 202-476-5580 |
| Washington, DC 20010 | Fax: 202-476-7611 |
| | |
Mon, Tue, Wed, Thu, Fri, Sat: 8 a.m. - 4 p.m.
Sun: Closed
To keep our patients, visitors, and staff healthy, we will be closing at 4 pm until further notice. We will continue to offer telehealth visits during our evening hours as well as appt. scheduling and nurse advice. This change is temporary during the current COVID-19 pandemic.