THEARC: Our Services
As your child grows and develops, their healthcare needs change.
At Children's Health Centers, we offer a variety of pediatric and specialty care services for your child, including:
Well child check-ups, immunizations and flu shots
Sick visits/same day appointments available
Care for minor injuries and illnesses
New patient and newborn evaluations
Comprehensive adolescent healthcare
Care for children with disabilities
Evaluation and counseling for behavioral, emotional and learning problems
Specialty care for asthma, mental health and obesity
Sexual and reproductive health
Developmental testing and screening
School, sports and camp physicals
School and daycare health forms
Breastfeeding support and infant nutrition
Hearing and vision screening
Help with Medicaid applications
Prescription refills
On-site psychology services (available at some locations)
WIC-special supplemental food program for women, infants and children (available at some locations)
Assistance connecting with needed community services
Referrals to Children's National specialists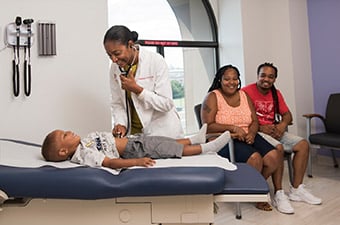 Whole Bear Care
Whole Bear Care facilitates the care of the whole child, mind and body, by offering behavioral health services at the same location as your child's primary care provider. The experienced Whole Bear Care team of licensed psychologists provides behavioral health consultation and some short-term follow-up for children, adolescents and young adults. (Available at most Children's Health Centers)
Learn about behavioral care
For Teens
As your child continues to grow, their medical needs will continue to change. Just because your child has become a teenager does not mean he or she needs medical care any less frequently than when he or she was younger. Our doctors and nurse practitioners specialize in adolescent health and the focus is on the total health of our adolescent and young adult patients.
We have several programs and services available to teens, including:
Dating, friendships
HIV, STIs and pregnancy
Peer pressure
Puberty, reproductive health
Teen health
Violence, bullying and conflict negotiation
Specialty care for:
Asthma
Obesity
Eating disorders
Contraception
Menstrual issues
Sexual health
Mental healthcare for conditions including depression, ADHD and anxiety
In addition, our Healthy Generations Program provides comprehensive, family-centered healthcare for teen parents and their children.
Referrals for Specialty Care
As your child grows and develops, their healthcare needs change. Our Children's Health Centers offer primary care "plus," providing children in the District of Columbia with a single medical home that provides assessment, basic treatment and care resources for primary care needs, as well as for specialty care, including for mental health, asthma, dental health, teen pregnancy, obesity and more.
Our pediatricians are connected to
Children's National Hospital
, which is
ranked #5 in the nation
by U.S. News & World Report.
If your child needs additional specialty care, our practices will work with your family to connect you to the best providers. Depending on your insurance plan, your child may need a referral from your pediatrician. Referrals for specialists can be sent electronically or via a hard copy referral. After you have seen the specialist, your primary care provider is available to review the recommendations made and to help coordinate ongoing care for your child.
| | |
| --- | --- |
| 1801 Mississippi Ave SE | Phone: 202-436-3060 |
| Washington, DC 20020 | Fax: 202-436-3098 |
| | |
Mon, Tue, Wed, Thu, Fri, Sat: 8 a.m. - 4 p.m.
Sun: Closed
To keep our patients, visitors, and staff healthy, we will be closing at 4 pm until further notice. We will continue to offer telehealth visits during our evening hours as well as appt. scheduling and nurse advice. This change is temporary during the current COVID-19 pandemic.