Shaw Metro: Whole Bear Care
Primary Care Behavioral Health Services
Whole Bear Care facilitates the care of the whole child, mind and body, by offering behavioral health services at the same location as your child's primary care provider. The experienced Whole Bear Care team of licensed psychologists provides behavioral health consultation and some short-term follow-up for children, adolescents and young adults.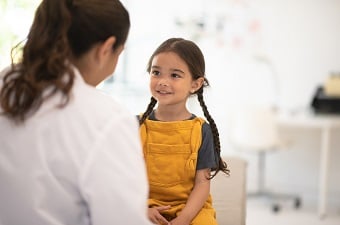 Psychology Services
Children's National primary care patients and families can access this consultation service through referral by your child's primary care provider during their regularly scheduled well child or sick visit. A psychologist will conduct an initial interview-based evaluation. After an evaluation has been completed, families are given referrals for mental health services within their community. When appropriate, some families may be offered short-term follow-up with the psychologist.
Some common concerns that families seek consultation for include:
Anxiety (worries, fears)
Mood (depression, irritability, anger)
Behavior (problems getting along with others, tantrums, difficulty sitting still)
Sleep (difficulty falling or staying asleep)
School (poor grades, problems with other students)
What to Expect When Meeting With a Psychologist
Our psychologists have special training in understanding emotional, behavioral and cognitive problems in children, adolescents and young adults. In addition, they can provide evidence-based treatment for such issues. Our psychologists do not prescribe medications but often work with medical providers when they think medications could be helpful and/or families are interested.
The first meeting with a psychologist usually involves getting to know your child, talking about you or your child's concerns and helping the psychologist learn more about your child's psychosocial history. The psychologist might meet with you individually, your child individually and/or both of you together. If it seems like follow-up services would be helpful, options will be discussed.
Contact Information
To schedule a consultation appointment with the Whole Bear Care team, please let your child's Children's National pediatrician know you would like to be referred to the psychologist located at your child's health center. Whole Bear Care currently has psychologists based at the following locations:
Anacostia
2101 Martin Luther King, Jr. Ave SE
Washington, District of Columbia 20020
Appointments: 202-476-6900
Columbia Heights
3336 14th St NW
Washington, District of Columbia 20010
Appointments: 202-476-5580
Foggy Bottom (CNPA)
2021 K Street NW
Suite 800
Washington, District of Columbia 20006
Appointments: 202-833-4543
Shaw Metro
614 S Street NW
Washington, District of Columbia 20001
Shepherd Park
Historic Reed Army Medical Center Campus
7125 13th Place NW
Washington DC 20012
THEARC
1901 Mississippi Ave SE
Washington, District of Columbia 20020
Appointments: 202-436-3060
| | |
| --- | --- |
| 641 S Street NW | Phone: 202-476-2123 |
| Washington, DC 20001 | |
| | |
Mon, Tue, Wed, Thu, Fri: 8 a.m. - 4 p.m.
Sat: 8 a.m. - 4:30 p.m.