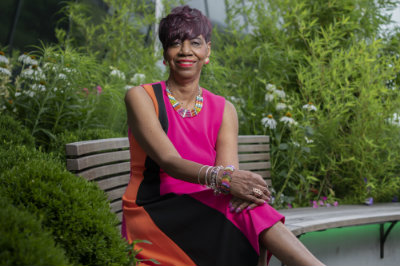 Pauline Barnes is affectionately called the "mayor of the PICU," the unit where she has spent 25 years of her career. Pauline, a patient care technician, is celebrating 50 years of service to Children's National this month, and she's a familiar face to staff and families.
Pauline says she often gets stopped in public by people saying she cared for them, or for their child. There have been several families she grew attached to during their stay, and some that she still stays in touch with or sees outside the hospital.
"I love the kids and their families," Pauline says. "I don't have kids of my own, and they're what keep me here. You have to love the job to stay for 50 years!"
"She's actually in my cell phone as 'the mayor," says PICU Nurse Manager Christy Gaskell, BSN, RN, CPN, CCRN, who has worked with Pauline since 2006. "Last year we saw about 3,000 patients in the PICU, so being here for 50 years, it's amazing to think about how many people Pauline has cared for, and how many lives she's touched. She's also cared for us – for her coworkers – and she's a part of our family."
When she started at Children's National in 1969, Pauline worked as an LPN in the Hematology Oncology unit, then called "Four Yellow." She remembers distinctly the day the staff moved patients from the old hospital on V Street to the current one. "They fed us fried chicken," Pauline recalls.
Pauline also spent time working in a 12-bed intermediate care unit, which has since been eliminated. "I cried when they did away with intermediate care," she says. "I loved that unit."
She has also worked in a clinic and in the Emergency Department, but the PICU has her heart. Pauline has seen the PICU grow, and the hospital change, over the years.
"Cardiac ICU used to be on the same floor as us, and I was really fascinated with ECMO," she says. Pauline was also part of the team that cared for conjoined twins a few years ago.
"The only hard thing has been technology changes," Pauline says. "I've had to learn how to use a computer, email, use a smartphone and text. Everything was paper before. We didn't clock in when I first started, you just came to work and the charge nurse would sign you in. I still had my annual training certificates in my locker until recently, from before it moved online."
Pauline says people ask her about when she's going to retire "all the time," but although she's started looking into it, she has no firm date in mind.
"It's just been a wonderful 50 years here," Pauline says. "Of course you have your ups and downs through the years, but overall I've enjoyed working here at Children's National."
On June 19, Pauline was surprised with a visit from local news personality Tucker Barnes, from Fox 5, to celebrate her service milestone.