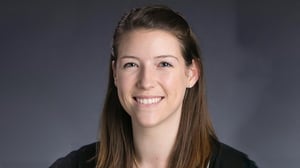 Meet Paige Johnson
Psychology Doctoral Intern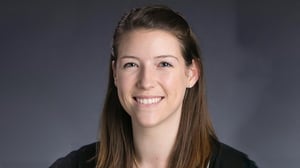 Paige Johnson joined Children's National Hospital in the summer of 2021 as a psychology doctoral intern. As a deaf person in the psychology field, Paige believes it is incredibly rewarding to help children and families – especially knowing that her work has also indirectly benefited her deaf community, and hopefully, the disability community as a whole.

As a second-generation deaf individual, Paige is proud to be among the five percent of deaf children born to deaf parents. Growing up in a family and community using American Sign Language (ASL) meant that she had the privilege of early access to communication and a strong deaf identity which led to opportunities that many others do not receive. Paige initially attended a mainstream program where she was the only deaf kid in the class, but due to poor interpreting services at the school, her parents and other deaf parents in Dallas-Fort Worth, Texas, banded together and established an all-signing charter school, Jean Massieu Academy. She later transferred to Texas School for the Deaf (TSD) to take advantage of their Advanced Placement classes, sports program and strong connections with postsecondary education institutions. After TSD, she moved to Washington, D.C., to attend Gallaudet University, the world's only university entirely geared towards deaf individuals. There, she played volleyball (eventually traveling to Taipei for the 2009 Deaflympics) and graduated with a bachelor's degree in psychology.

After Gallaudet, Paige returned to TSD as an elementary teaching assistant and was devastated to see that language deprivation in deaf students persisted. These students often found refuge at TSD after years of receiving poor education and limited access to communication elsewhere. Recognizing the inextricable links between language and academic, neuro-, and social-emotional development, she enrolled in the school psychology program at the University of Texas, Austin (UT) to have a larger impact beyond the classroom and work closely with both parents and children.
Originally, Paige thought she would only work with the deaf population at UT but when she started working with the hearing population, she realized that her experience as a deaf person and her bilingualism allowed her to connect with disabled patients and their families as well as those who speak languages other than English.

"Being deaf gives me the life experience and worldview that allows me to approach various aspects of my professional career in ways that not only benefit clients, families and their providers, but it also gives me the opportunity to change the perceptions of deaf professionals in the workplace and disabled people in general," said Paige.

Prior to starting her internship at Children's National, Paige had the honor of working with the National Deaf Center on Postsecondary Outcomes (NDC) where she was able to publish multiple works as a graduate research assistant on the Research and Data Team. She is particularly proud to have led one published work that identified factors driving resilience among deaf individuals with trauma and she has another one currently under review.
Although Paige is new to Children's National, she has enjoyed the rich training and being able to experience working in different settings and clinical services at the hospital (e.g., inpatient pediatric consultation, outpatient therapy and integrated primary care) while serving a diverse population with diverse needs. She is currently enjoying the opportunity to rotate in inpatient psychiatry. In 2022, Paige hopes to secure a postdoc position and will be starting the application process soon.

"I cannot imagine where I would be without my family and the deaf community. I am eternally grateful for them," said Paige.