Meet Our Overnight Social Workers
Team of three cares for our patients in a variety of circumstances overnight
Our social workers at Children's National Hospital provide valuable support and care to our patients and families. Not only do we have social workers available during the day, we also have a group who work overnight so we can meet the needs of our patients and families at any time. Kate Castellano, MSW, LICSW, Sonia Higgenbottom, MSW, LICSW, and Sanaa Willenbring, MSW, LICSW, are the members of our overnight social work team. The team of three sees patients and families across the hospital in a variety of circumstances overnight.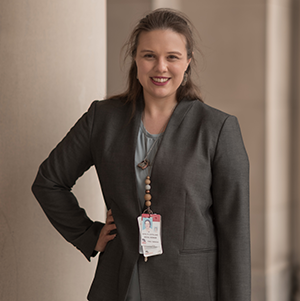 "Being a social worker at a hospital means that I encounter families facing a variety of issues such as domestic violence, homelessness, food insecurity, human trafficking, mental illness, drug abuse and more," Kate says. "In addition to helping families navigate these issues while their child is sick, I also have an opportunity to educate the medical staff about these issues and how they can impact patient care and wellbeing."
During an overnight shift, Kate says she typically sees about three to four patients but, with less patient volume, our social workers are given the opportunity to spend hours working with one patient at a time. "This is great for families because it allows me to get to know their unique circumstances in a way that isn't possible during daytime hours," she notes.
"Working overnights, I recognize families are tired, stressed and may have limited access to support," said Sanaa. "No parent wants to be in the Emergency Department or on a medical unit, so I approach my interaction with the aim to provide support as well as comfort. Whether that be getting them a cup of coffee, phone charger, blanket or being available as a person to talk to about their stressors."
Our overnight social workers are located in the Emergency Department (ED), but are responsible for seeing patients and families in every unit of the hospital. "Overnight, I follow a patient from the ED all the way to the unit they are admitted to," Kate says. "This provides continuity of care and allows me to work closely with the medical teams on every unit. When the daytime social worker comes in, they have access to my work from overnight and can anticipate problems before seeing patients."
Sanaa describes having to be innovative to work overnight. "Here in the ED, we are a team of innovators as we try to find solutions to problems that occur during non-traditional work hours and cover a range of issues that may arise."
Kate and Sonia also echo Sanaa's sentiments that working overnight has its challenges because there are not as many resources available. "I have to be creative and resourceful to make sure that I am able to provide the best care possible even if that means referring to another agency or informing the daytime staff of a family experiencing material poverty," Kate says.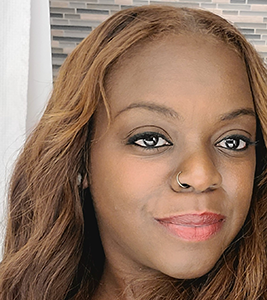 Working with our patients, families and staff make all the difficulties of being overnight worth it. "I became a social worker because of my passion for helping others, whether it be something as simple as making sure they are comfortable, to being a listening ear," says Sonia. "I enjoy working with our families and the most rewarding part of being on this team is that we are change agents and we enjoy what we do."
The overnight social work team is an available resource for our staff to contact. Each social worker has the skills to assess the psychological, social, environmental and financial impact of illness and potential hospitalization on a patient and family. They can then develop plans to meet the patient's and family's specific needs as well as collaborate with their healthcare team.