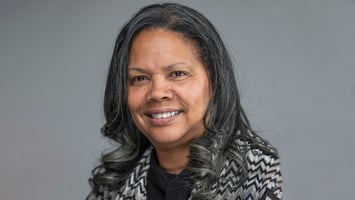 Meet Jeanne Ricks, BSN, MS, RN, NE-BC
Director of Outpatient Nursing and Ambulatory Services at Children's National Heart Institute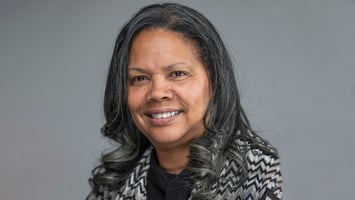 Jeanne Ricks, BSN, MS, RN, NE-BC, director of Outpatient Nursing and Ambulatory Services in Children's National Heart Institute, says she was meant to be a nurse. Her father was a physician, and her mother an entrepreneur, so she knew she wanted to go into medicine, but the influence of a beloved aunt shifted her focus.
"My Aunt Anna took me and my siblings to school in the mornings when we were younger. She was kind, loving and engaged. I loved that about her, but didn't get to know her very well because we lost her in a car accident when I was in elementary school," she says.
Her aunt was a nurse. And as Ricks got older and considered professions, she wanted to be "involved in all aspects of caring for children" that included making clinical assessments, developing plans of care with the team, as well as the child's family and caring for the family as a whole, she says.
"Nursing, so it seemed, allowed me to do that. It was with that thought process and the support of my family that sent me off to college for a degree in nursing. Since entering the profession, I have grown to understand the importance of every touch, word and care," she says.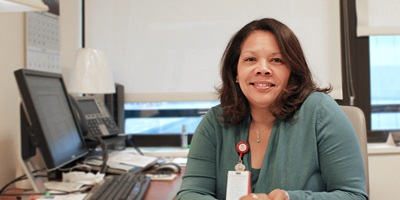 Ricks has been a registered nurse since 1979; she's worked at Children's National Hospital for more than 27 years. She began her nursing career at Children's National as a Child Care Technician (CCT) which piqued her interest in pursuing a future nursing career in pediatric cardiac care.
Ricks says that there isn't just one memorable clinical experience she's had as a nurse.
"The one thing about nursing for me is that it is a string of memorable experiences. The resiliency of children is amazing. Even after an illness or surgery all they want to do is get up and play," she says.
She says it's a privilege to be a care provider and an advocate as well as a participant in the education of patients, families and other healthcare workers.
"Many nurses here wear a jacket that says 'Only in pediatrics can you save a lifetime,' that happens every day and what pride it brings," says Ricks, a longtime advocate for patients and families, and mentor and leader to nurses and staff.
She says her focus is "to foster an environment of open and honest communication among the nursing team as well as to be innovative and improve processes on departmental and system levels."
One of her most rewarding experiences so far has been her role in leading the journey toward Magnet Nursing designation at Children's National. Jeanne led the nursing staff during the consideration process to demonstrate their commitment to providing world-class care for patients and their families in the safest possible setting.
She says, "Children's National brings hope, support and excellent care to patients and families worldwide and I have the privilege of being a part of touching the lives of patients, families and employees."