Meet Lisbeth Fahey, RN, MSN
Director, Children's Performance Improvement Department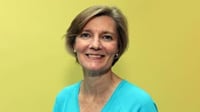 Lisbeth Fahey, RN, MSN, is the director of the Children's National's Performance Improvement Department. Fahey works with staff throughout the organization to ensure world-class care is provided to all of our patients. The Performance Improvement Department facilitates teamwork, provides consultation, educates staff in performance improvement techniques and uses data to drive improvements.
During her more than nine years at Children's National, she says, "What I enjoy the most about working at Children's is the staff's enthusiasm in identifying and making changes to continuously improve safety and quality."
Fahey is transforming children's health everyday by directing the organization's efforts to ensure Children's maintains accreditation in all areas.
Children's has exceptional staff at all levels working together to improve the patient's and family's experience. "I often see individuals taking the extra step to improve care in small ways: helping with wayfinding, reporting a good catch, assisting a co-worker," she says. "I am proud to work alongside these individuals who demonstrate daily how important the care of our patients is to them."